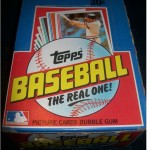 It's turkey month, and this month's pull has William from Ramsey giving thanks. If you've been by the store lately, you noticed we've cracked some old wax boxes to sell packs, one of them being a wax box of 1982 Topps.
Well, someone had to pull it, and William did, a genuine Bob Bonner rookie card.
Congratulations on what looks like a near perfect rookie card of baseball's iron man, Cal Ripken Jr., and thanks for sending us a picture of your great pull.
Did you get a great pull from a pack purchased at the store or online? We'd love for you to tell us about it: baseballcardstorenj@gmail.com
---
[mp_list_products paginate="false" number="2″ per_page="2″ order_by="rand" tag="ripken"]
---