In honor of tomorrow's big game, one of the favorite cards at the store, a 1989 Topps Joe Morris, signed and personalized to the store by the all time great NY Giants running back.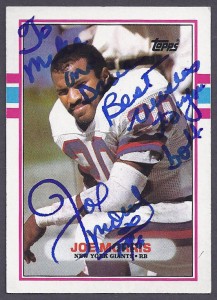 Following his college career at Syracuse University, home of many a great running back including Jim Brown, Floyd Little, Ernie Davis, and Larry Csonka, the NY Giants selected Morris with their second round pick in the 1982 draft.
In that first season with the Giants Morris scored on a touchdown on his first rushing attempt. In 1985 he broke the 1,000 yard barrier and led the league with 21 touchdowns. In the Super Bowl season on 1987 he added another of his four 1,000 yard seasons. His total would move past another giant great, Alex Webster, as the all time team leader (since passed by Rodney Hampton and Tiki Barber).
He wrapped up his career with the Cleveland Browns in 1991. #20 ended his career appearing in a pair of Pro Bowls, 5,585 yards with a 4.0 yards per rush average and an even 50 touchdowns.