This month's pull of the month was from store fixture Dan, and came out of a jumbo box of 2012 Bowman he purchased from the store yesterday.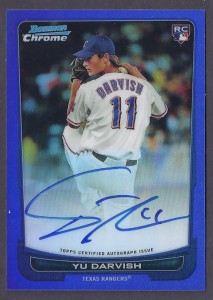 One of the three autographs per box was a Yu Darvish autographed Bowman Chrome Blue Refractor, numbered 34/250. The Japanese Pacific League star who put on quite a performance in the 2009 World Baseball Classic has taken his act to Texas this season, where he's 4-1 thus far with a 2.54 ERA.
Congratulations Dan, and as always if you have a great pull from a pack at the store, let us know about it and we'll feature your card.
---
Featured Products:
[mp_list_products paginate="false" number="4″ per_page="1″ order_by="rand" category="bowman-boxes"]
---