2011 Topps Factory Set – Holiday Edition (Hobby)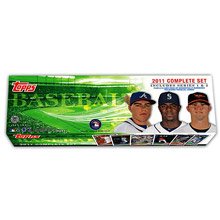 2011 Topps Factory Sets: Each complete set of 2011 Topps Baseball contains 660 Regular Cards Plus one (1) FIVE-card pack of numbered, exclusive foil stamped parallel cards, at random. Packed in a shrink-wrapped, full-color display box. The full color boxes showcases rookie phenom Stephen Strasburg exclusively on this edition–a keepsake in itself. The 660 card set is made up as follows: VETERANS: 547 players from Series 1 & 2, ROOKIES: 57 rising stars from Series 1 & 2, SUBSETS: 56 players from Series 1 & 2. Also includes 30 Team Cards, 10 Record Breakers, 10 League Leaders, 2 League MVPs, 2 Rookies of the Year, 2 Cy Young Award Winners. Made in the USA.
Buy the collector you know this year's complete set of Topps cards, or get the young baseball fan in your family started in collecting.